Email
Email is a feature which allows users on the wiki to email each other in the Gamepedia interface. If you want to allow or disallow other users to send you an email, go to Preferences and make the settings, which fit best for you.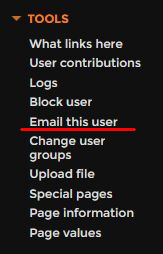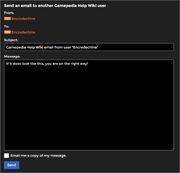 To access email, go to Special:EmailUser. -> Read more below!
Fill in the username field and click submit.
An interface will come up - containing subject of the message, recipient and sender information and the text field, where you can type your message in.
Type your message and once you're ready to send it - click "Send" - and the message will be forwarded to the recipient user's email.
Please note: Emails sent via Gamepedia cannot be edited after being sent.
Other ways to access:
The email user link will automatically show up when viewing any user page, user talk page, or user contributions page of a user who has email enabled, as an "Email this user" link in the left sidebar.
However you access the page, an interface will come up, with information about emailing, who you're sending the email to, a subject, and a message. The subject will automatically be 'Gamepedia Help Wiki email from user "[USERSENDINGTHEEMAIL]" and the message area will be blank, for you to fill in. You can also check the "Email me a copy of this message" box, which if checked will automatically send the email to yourself after you send the email.
There are no specific policies or guidelines as to when email should be used, but it is generally useful when you need to contact a specific person about something that should not be revealed on the wiki. For example, if you see an edit that requires revision deletion, it may be best to email an active bureaucrat rather than post on their talk page, so that the revision that should be deleted has a smaller chance of being seen.